Pennsylvania First Lady and State Archivist Meet with Distinguished Daughters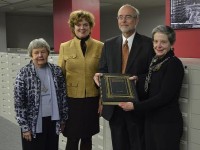 Pennsylvania's First Lady Susan Corbett, second from left and Pennsylvania State Archivist and Director of the Archives David Haury recently met with Distinguished Daughters Nancy Besch, Harrisburg, Distinguished Daughters Executive Committee member, left, and Susan Belin, Waverly, Distinguished Daughters President, right. The occasion marked the transfer of all Distinguished Daughters archival materials to the State Archives dating from the organization's inception in 1948 to the present.
Haury and Belin are holding the Distinguished Daughters Citation Book containing biographies of Daughters honored between 1949 and 1958. Two other similar books of hand done calligraphic biographies of the honorees exist for 1959 to 1972 and from 1973 to 1985. The books are moved from the Archives to the Governor's Residence for display at the Annual Distinguished Daughters Awards Luncheon each October.
Mrs. Corbett serves as a Commissioner of the Pennsylvania Historical and Museum Commission which administers the State Archives.