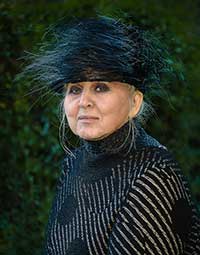 Susan Kemenyffy is widely recognized for her significant achievements in American ceramics, especially Raku, and her numerous international exhibits and lectures on art and gardening.
She received a National Endowment for the Arts Fellowship and the Governor's Pennsylvania Artist of the Year Award. She served as Chairman of the Pennsylvania Council on the Arts where she is a Trustee Emerita, as President of the Erie Art Museum and Trustee of the Erie Community Foundation. She continues her life-long commitment to advocacy for a wide panoply of art forms for creative expression, including studio, garden, political, visual, spoken and written arts.
She received her BFA from Syracuse University, studied at the Art Students League in Woodstock, NY and her MA and MFA from the University of Iowa.