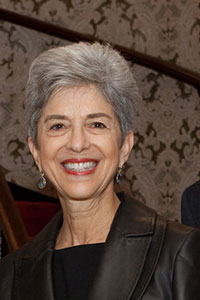 Born and raised in Pittsburgh, Sheila Reicher Fine has been a committed community volunteer since her teen years. Over the years she has been an active participant, supporter, and board member of numerous organizations, including the Jewish Federation of Pittsburgh,
The Children's Institute of Pittsburgh, Eye and Ear Foundation, and the Jewish Healthcare Foundation.
In 2003, Fine founded LEAD Pittsburgh (Leading Education and Awareness for Depression). Her interest in depression was piqued by an article in The Wall Street Journal describing the suicide of a successful, well-connected businessman. She wanted to know how this tragedy could have been prevented. Through research she learned of the pervasiveness of depression, which affects individuals in all aspects of society. LEAD evolved as a response to Fine's growing understanding of depression: its causes, available treatments, and the possibilities for prevention.
The goal of LEAD's major project, the Student Curriculum on Resilience Education (SCoRE™), is to enhance the mental health of young adults. The online curriculum is based on research that points to the positive impact of resiliency training, the ability to adapt to adverse or changing circumstances. Research suggests teaching resilience skills to the college-age population can protect against the development of mental disorders such as anxiety and depression. LEAD has developed the college curriculum to foster these skills in young adults. Currently, Fine serves as chair of LEAD Pittsburgh.
Fine is a member of the International Women's Forum and a board member of Community Care Behavioral Health, Jewish Women's Foundation, Shadyside Hospital Foundation, the University of Pittsburgh–School of Social Work Board of Visitors, UPMC Presbyterian Shadyside Hospitals Patient Care Committee, the University of Pittsburgh Institute of Politics Board of Fellows, and the Town of Palm Beach United Way. Fine is also on the executive committee of The Fine Foundation that seeks to make a positive difference in peoples' lives through investments in arts and culture, science and medicine, and Jewish life.
In 2012, she and her husband, Milton Fine, were awarded Doctorate of Public Service degrees by Chatham University. In 2014, Sheila Fine was the recipient of the Albert B. Craig, Jr. Award for Innovation in Mental Health presented by the Staunton Farm Foundation. In 2015, she received Palm Beach Atlantic University's Women of Distinction Award for her work in mental health and Outstanding Volunteer Fundraiser Award from the Western Pennsylvania Chapter of the Association of Fundraising Professionals.
Sheila and Milton Fine take great delight in their combined family of six adult children and 15 grandchildren. Sheila's late husband was Zell "Buz" Reicher.