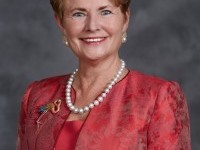 Sara (Sally) Gammon has devoted much of her professional life to developing rehabilitation services throughout eastern Pennsylvania that provide increased function and independence for people with disabilities. As President and CEO of Good Shepherd Rehabilitation Network in Allentown for more than sixteen years, she guided the expansion of this leading-edge post-acute care system. She led Good Shepherd to be a leader in the use of rehabilitation technology like the Ekso bionic exoskeleton, and she was instrumental in having Penn Medicine of Philadelphia select Good Shepherd as its post-acute care partner.
Sally has been an advocate for rehabilitation services on the state and federal levels. She served as a board member of the Pennsylvania Association of Rehabilitation Facilities and was recognized by that organization with its 2005 Rehabilitation Leadership Award.
She has been a key leader for the United Way of the Greater Lehigh Valley, and she received Honorary Degrees from Muhlenberg College and DeSales University.