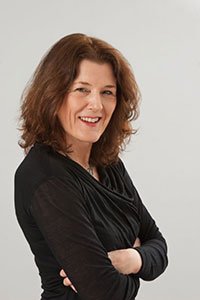 Marty Moss-Coane has been host and executive producer of Radio Times with Marty Moss-Coane, one of the most respected weekday interview programs in the Delaware Valley, for more than 25 years.
Produced at WHYY, the region's leading public broadcasting station, Radio Times is recognized as one of the tri-state area's most thought-provoking, creative and informative radio programs. Radio Times is heard nationally on the National Public Radio Sirius-XM channel..
Marty believes guiding discussions fairly and accurately is imperative to educating and informing audiences. She has earned praise for her versatility and her engaging conversations and interviews with both guests and callers during the daily, live two-hour program, which covers social issues, public policy, books, films and more.
A graduate of Temple University, she has received numerous accolades for excellence in radio, public service, public health and public affairs.
She and her husband, clinical psychologist James Coane, have a son, Jesse.