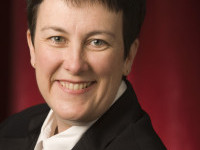 Jennifer Higdon, one of America's most acclaimed and most frequently performed living composers, received the 2010 Pulitzer Prize in Music for her Violin Concerto. Her Percussion Concerto won the 2010 Grammy for Best Contemporary Classical Composition. Her work has been commissioned and performed by orchestras throughout the world.
Jennifer is the recipient of many other national and international awards recognizing her commitment to the highest level of artistic achievement and the quality of her work across a diversity of musical genres. These include a Pew Fellowship, a Guggenheim Fellowship and two awards from the American Academy of Arts & Letters. Her commissions range from the Philadelphia Orchestra to the Santa Fe Opera; from Eighth Blackbird to the Tokyo String Quartet.
A gifted teacher, she holds the Rock Chair in Composition at The Curtis Institute of Music in Philadelphia where she has inspired a generation of young composers and musicians from around the world.