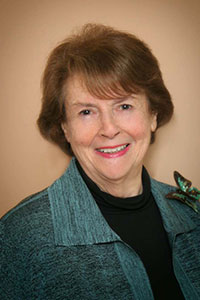 Jane Oppenheim's leadership skills and her deep concern and commitment to human rights, social services, the arts, education and humanities have benefitted innumerable national, regional and community organizations.
She serves on the boards of Scranton Area Foundation, United Neighborhood Centers, Everhart Museum, Scranton-Lackawanna Human Development Agency, Hunter College and Keystone College where she is on the leadership team for the annual literary conference The Gathering. She is a former member of the National Board of the Women of Reform Judaism and the boards of the World Union for Judaism, the Union for Reform Judaism and president of Temple Hesed,
Jane's many awards include those from Hunter College for Outstanding Community Service, B'Nai B'rith Americanism Award, Association of Fund Raising Professionals Lifetime Achievement Award and awards for her service from Keystone College, University of Scranton and Scranton Area Foundation.
A graduate of Hunter College, she earned her master's degree in English at Columbia University. She and her late husband Richard have three children and eight grandchildren.