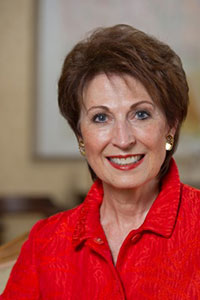 Following successful careers in both the public and private sectors, Dianne Semingson founded DLS International in 1992. Headquartered in Philadelphia, PA, DLS partners with CEO's and Chief Marketing Officers to provide strategic market planning, marketing communications and business development services for many of the regions' most recognizable corporations, foundations and community organizations.
Ms. Semingson also works with non-traditional clients, including life science portfolio companies of venture capital (VC) firms.
From June 2011-2013, Ms. Semingson simultaneously served as President and CEO of Semingson Enterprises, Inc. She led this natural resources, real estate, and hospitality company through the transition from its founding father. Dianne was a member of the Board of Directors of the family–owned business from 1981.
When the City of Philadelphia needed to enhance its image, City leaders tapped her as City Representative and a member of the Mayor's cabinet. She worked with government officials and chief executives throughout the United States and abroad, leading cultural and trade missions to Europe and Asia.
As Regional Director for the U.S. Department of Commerce, Ms. Semingson oversaw economic development programs in the six-state Mid-Atlantic Region. For five years she and her staff provided briefings for the White House and the U.S. Secretary of Commerce on regional economic and industry affairs. Upon leaving government, she was named Director Government and Industry Affairs for ARCO Chemical Company. Ms. Semingson also served as Corporate Vice President for Marketing and Communications for the Hill Group, Inc, an international construction consulting and engineering firm.
Prior to moving to Philadelphia, Ms. Semingson served as Deputy Director of Commerce for the Midwestern Region headquartered in Chicago. She also held multiple executive positions with the U. S. Department of Housing and Urban Development in Chicago, Columbus, Ohio and Detroit, Michigan.
A graduate of the University of Oregon with a B.A in Urban Sociology and Public Administration, Ms. Semingson has completed executive management programs at Duke, Harvard and Northwestern universities.
Corporate Boards: Urban Engineers, Inc., 2014 – Present; St. Christopher's Hospital for Children, Chair, one of the few for-profit children's hospitals in the nation, 2001-Present; PNC Wealth Management Advisory Board, 2003-2011 and 2013-2015 (Board Member of the Year 2007, 2014); Co-Trustee, Louis C. Spring Trust, Wells Fargo. Past: Semingson Enterprises, Inc., President and Secretary; Chair, RevolutionCare and CareKinesis Advisory Boards; Director, Mellon/PSFS Bank.
Community Boards: Avenue of the Arts, Inc., Chair; Committee of Seventy, Executive Committee, Chair, Board Development; Sunday Breakfast Club, Steering Committee; United Way of Southeastern PA; Wilma Theater; YMCA of Greater Philadelphia, Executive Committee. Past: American Heart Association, Go Red for Women; Mid-Atlantic Arts Foundation; Pennsylvania Council on the Arts, appointed by three Governors.
Recent Awards: 2015 Brava! Award from SmartCEO Magazine; Pennsylvania's 50 Best Women in Business; "Woman of Distinction", Philadelphia Business Journal and National Assn. of Women Business Owners; 2012 Woman One, Institute for Women's Health and Leadership, Drexel University College of Medicine; "Association Board Member of the Year", YMCA of Greater Philadelphia, 2010; United Way of SEPA "Live United" Award, 2009; "Take the Lead" Award, Girl Scouts of SEPA; "Woman of the Year", Philadelphia Chapter of Business and Professional Women; Silver Medal, Philadelphia Club of Advertising Women; President's Award, Sales and Marketing Executives International. Dianne was inducted into the Delaware Valley Women of Achievement and named to PA's Honor Roll of Women.
Memberships: Women Corporate Directors, Forum of Executive Women, Pennsylvania Women's Forum, Union League of Philadelphia. Former: 10-year member of Vistage, National Association of Corporate Directors.
Dianne currently is Chair, Vision 2020 Centennial Celebration of the 19th Amendment to the U.S. Constitution which gave women the right to vote. She was Co-founder and Co-Executive Producer of Lincoln 200, Philadelphia's Abraham Lincoln Bicentennial Celebration, 2007-2009. She is the author of the study, "Women-Owned Businesses: Work in Progress".