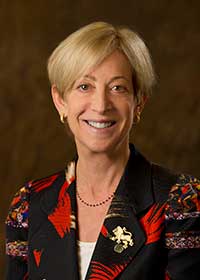 Cynthia Shapira is President of the Shapira Foundation. She is Chair of Pennsylvania's State System of Higher Education and a Vice-Chair of the Brandeis University Board of Trustees. Ms. Shapira was a Vice-Chair of Governor Wolf's transition team, and a Corbett appointment to the Pennsylvania Women's Commission.
She is on the boards of the Allegheny County Airport Authority and the Pittsburgh Cultural Trust. She is immediate past chair of the Greater Pittsburgh Jewish Federation, former chair of Chatham University's PA Center for Women in Politics and served on the boards of Point Park University, Pittsburgh Promise, United Way of Allegheny County, and WQED Pittsburgh. She founded the 21 & Able Initiative and is Honorary Co-Chair of Allegheny 365, both organizations serving young people with disabilities.
A former non-profit and higher education management consultant, she holds a BA from Wellesley College and an MPA from Harvard Kennedy School of Government.