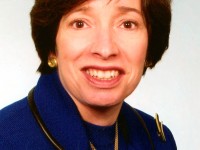 Carolyn Duronio, an attorney with Reed Smith in Pittsburgh, is highly respected as an expert on non-profit governance and is counsel to many leading state and national not-for-profit groups. She served as Managing Partner for the firm's Pittsburgh office and currently is a member of the Executive Committee. Carol is included in The Best Lawyers in America (2003-2015).
In addition to her impressive professional accomplishments, her dedication to her family and community has been extraordinary. For many years, Carolyn was a loving caregiver to her younger sister who was born with special needs. Her dedication to community development is evident through her many board affiliations, both past and present, including The Children's Institute, Family Services of Western Pennsylvania, Carnegie Museums of Pittsburgh, The Frick Art and Historical Center and the Pittsburgh Cultural Trust.
She graduated Phi Beta Kappa and magna cum laude from Harvard where she also received her J.D. magna cum laude.