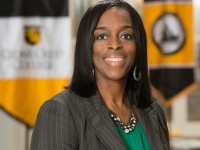 Carmen Twillie Ambar, J.D., President of Cedar Crest College, is widely recognized for her commitment to the education of young women as future leaders in a global community and has won several prestigious awards for her support of women.
Under her leadership, Cedar Crest has launched more than 20 initiatives focused on global connectivity, civic engagement and health and wellness. She served as dean of Douglas College at Rutgers University, the youngest dean in the university's history, and as assistant dean of graduate education at the Woodrow Wilson School of Public and International Affair at Princeton University. Prior to her leadership in higher education, she was assistant corporation counsel in the New York City Law Department.
She earned her J.D. from Columbia School of Law, her Master's in Public Affairs from Princeton and her Bachelor's in Foreign Service from Georgetown. She and her husband are parents of triplets.