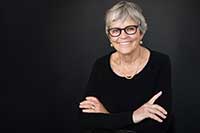 Emeritus Professor of Pediatrics at the University of Pennsylvania Children's Hospital of Philadelphia where she served on the faculty for over 40 years and as Medical Director of Pediatric Oncology.
Dr. Lange is recognized as an educator, clinical investigator and expert in pediatric leukemia and the infectious and cognitive complications of cancer treatment. She received Lifetime Career Awards from the Children's Oncology Group and the American Society of Pediatric Hematology /Oncology. She served on the boards of Bryn Mawr College, American Board of Pediatrics, NIH Pediatric Central Institutional Review Board and Philadelphia Opera Company.
She received her Bachelor's Degree from Bryn Mawr College, her Medical Degree from Temple University, her residency at Philadelphia General Hospital and completed her fellowship work at the University of Pennsylvania. In May 2017 she earned her final degree: Master of Public Health.