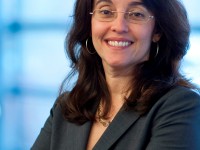 Alba Martinez is a Principal in Vanguard's Retail Investor Group and leads the Retail Services

business department. Prior to entering financial services, she devoted 23 years to law, human

services and government in Southeastern Pennsylvania.
Alba began her career as an attorney for Community Legal Services in Philadelphia, was Executive Director of Congreso de Latinos Unidos, the leading provider of bilingual/bicultural human services in Pennsylvania, was appointed by Mayor Street as Commissioner of the Philadelphia Department of Human Services, and served as President and CEO of United Way of Southeastern Pennsylvania before joining Vanguard. She has been active in numerous civic and community organizations, and serves on the board of the Main Line Health System.
Alba graduated magna cum laude from the University of Puerto Rico, and received her law degree from Georgetown in Washington, D.C. She and her partner, Roberta Trombetta, live in Mount Airy, Philadelphia and have two children.