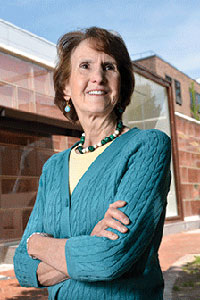 Page Talbott is President/CEO of the Historical Society of Pennsylvania in Philadelphia one of the nation's most important special collections libraries. She was formerly Principal at Remer & Talbott, a consulting firm providing exhibition and interpretive planning services, including major exhibits throughout the Commonwealth.
Page was Associate Director and Chief Curator of the Benjamin Franklin Tercentenary, an international award-winning traveling exhibition, and was the editor and an author of the companion catalog Benjamin Franklin: In Search of a Better World.
She has been an independent curator and consultant for museums, historical societies, and historic house museums throughout the Mid-Atlantic region. She has served on the boards of the Historical Society of Pennsylvania, the Center for Conservation of Art and Historical Artifacts, the Society of Winterthur Graduates, and the Winterthur Museum and Country Estate.
Page holds a B.A. from Wellesley College, an M.A. from the University of Delaware/ Winterthur Program, and an M.A. and Ph.D. in American Civilization from the University of Pennsylvania.