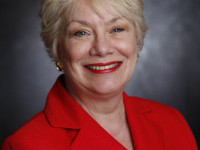 Marsha Blanco has served as President and CEO of ACHIEVA since 1978 where she has been instrumental in developing pioneering community services for people with disabilities and their families. Marsha's effective advocacy has been a primary factor in decreasing Pennsylvania's reliance on institutionalization for men, women and children with significant disabilities.
Several of the programs developed under her leadership have been replicated nationally and internationally. She was the first professional to become a member of the Board of The Arc of the United States, the 10th largest charity in the country and was a committee member of the United States Department of Justice that designed standards for the implementation of the Americans with Disability Act (ADA).
Her accomplishments have been recognized widely, including being named Executive of Excellence by Arc, a Woman of Distinction by the Girl Scouts of Western Pennsylvania the Nonprofit Executive of the Year from the Pittsburgh Business Times.