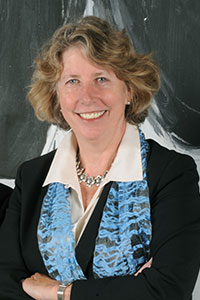 Gail Harrity, President and Chief Operating Officer, Philadelphia Museum of Art.
Highly collaborative and accomplished leader serving as the President and Chief Operating Officer of the Philadelphia Museum of Art, one of the United States' most comprehensive museums with 230,000 works of art housed in landmark buildings, an annual operating budget of approximately $55 million and total net assets of over $870 million.
Over the course of her 30 plus year career working national and international museums, Ms. Harrity has provided strategic vision and a strong management record of setting priorities that lead organizations to success. She is a mission driven, can-do Executive with a high level of energy, vigorous work ethic and an entrepreneurial spirit.
Ms. Harrity has overseen a wide range of administrative functions for the Philadelphia Museum of Art, including legal, financial, development, marketing, membership and visitor services, interpretative and information technologies, facilities management, and government and external affairs. Working closely with the Director and Board of Trustees, she has played a central role in strategic planning, the creation of a multi-year comprehensive facilities master plan, and the implementation of a number of audience building and digital technology initiatives, including the development of a central digital database for the Museum's collection that provides global public access to the works of art.
Prior to joining the Philadelphia Museum of Art in 1997, Ms. Harrity served as Deputy Director at New York's Solomon R. Guggenheim Museum, where she served as project director for the Museum in planning for the Frank O. Gehry designed Guggenheim Museum Bilbao in Spain. Before that she served as the Guggenheim Museum's Deputy Director for Finance and Administration. From 1982 to 1989 Ms. Harrity worked in a variety of positions at the Metropolitan Museum of Art, including Assistant Treasurer and Chief of Budget, Planning and Government Relations.
Ms. Harrity is involved in active leadership of many cultural and business ventures, serving as a Board member of many international, national, and regional arts organizations. She also serves on the Yale School of Management Board of Advisors. Ms. Harrity was the 2002 recipient of an Eisenhower Fellowship, an international program promoting the exchange of information, ideas, and perspectives among emerging leaders throughout the world and was the first US Eisenhower Fellow to go to China. She received her BA from Boston University and MBA in Public and Private Management from the Yale School of Management.