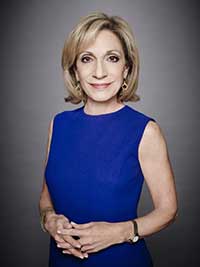 Andrea Mitchell, veteran chief foreign affairs correspondent for NBC News, is also the host of "Andrea Mitchell Reports," on MSNBC.
Since joining NBC News in 1978, she has covered the White House, Congress, the State Department and National Security, appearing regularly on all NBC News and MSNBC programs. Mitchell's extensive reports over decades include the Reagan/Gorbachev summits, exclusive interviews with Fidel Castro, the Iran nuclear talks, conflicts in Bosnia, Kosovo, Iraq, and Afghanistan, and assignments in Iran, North Korea, and Vietnam.
She has covered every political campaign for NBC News since 1980, most recently as the lead correspondent assigned to Hillary Clinton. Frequently honored by her peers, Mitchell authored the best seller, "Talking Back," about her experiences as one of the first women in broadcast news.
Mitchell is a graduate of the University of Pennsylvania where she is the immediate past Vice Chair of the Board of Trustees.